Published on: 04/09/2020
Avidian Report – Watch These Three Things for a Market Recovery
INSIDE THIS EDITION:
Watch These Three Things for a Market Recovery
Weekly Global Asset Class Performance
Coronavirus / COVID-19 Resource Center
Many investors right now are grappling with a difficult choice – to chase or not to chase the recent bounce in equity prices. It is not an easy decision when volatility has been elevated as of late, the economy has plunged into recession, forward earnings are uncertain but stocks are up double digits off of their recent lows. Because it is so difficult, we think it is important to have a framework for making investment decisions rather than reacting to every up-tick or down-tick in the market.
[toggle title='Read More']
In the current environment, we favor a three-pronged data-driven approach that helps quiet some of the noise and keeps emotions from taking over investment decisions. Our framework is largely based on the progress being made on three fronts: the virus, the economy, and economic stimulus. We believe these three areas will hold information about the timing and speed of a potential recovery for the equity markets. Although still full of uncertainty, it is worth examining them and what they may be telling us.
Virus Update
What we are noticing is that the growth of confirmed cases globally appears to have begun slowing – what we have referred to often as a flattening of the curve.  The trends are also showing some signs of improvement at the individual country level, with even hard-hit countries like Italy appearing to gain better control of cases. The move to keep populations at home looks to be working. The slowing of the spread of the virus is important because as that happens, governments can begin to think about a more concrete plan for a gradual reopening of the economy. Our view, however, is that regardless it will take time to get to pre-COVID-19 levels of economic activity. After all, it may be a while before people feel fully confident that they run little risk of contracting the virus and that the healthcare system is in a position to treat potential cases.
Meanwhile, there are currently 70 possible vaccines in development for Covid-19. This is an increase from 44 in development on March 20th. However, only 3 are in the clinical trial stage and the rest in a preclinical trial stage of development. While it will take 12 to 18 months to get a vaccine approved, promising developments in the trials could be a big confidence boost that we are closer to a final resolution to the pandemic. However, for now we await the results.
The economy
As we all know, the domestic economy has unsurprisingly ground to a halt due to the shutdowns imposed by state governments.
While the magnitude of the economic impact won't be known until later in the year when backward-looking data is released, higher frequency economic data are indicating significant weakness. The table below shows the levels of data including unemployment, retail sales, hotel occupancy and the Opentable State of the Restaurant Industry among others. From the numbers, we can conclude that parts of the economy relying on in-person transacting have been hit the hardest, but virtually no sector has been spared. Secondly, and perhaps more interesting is that the retail sales data are positive vs. prior levels. We believe this is because the epidemic has pulled forward grocery store sales, as people braced for long lockdowns. However, it is likely to reverse as reduced demand for groceries flows through to the weekly sales data.
We expect to get more insight on these numbers as companies report earnings going forward. However, what we know at the moment is that S&P 500 earnings are expected to decline by double digits for the first quarter, marking their largest year-over-year decline since 2009. That year, earnings declined 15.7% in the third quarter. As we look at sector level performance, all eleven major sectors have lower growth rates today than they had to close 2019 as analysts have slashed expectations in response to COVID-19. Perhaps unsurprising to many in Houston, the largest cuts in estimates have come for the energy sector which has been recently impacted by a combination of COVID-19 and oil oversupply issues.
Stimulus
In response to the Coronavirus' economic impact, the US Federal Reserve has taken unprecedented steps in their attempt to save the economy. In all, the Federal Reserve could inject up to $6T of stimulus combined with interest rate cuts. Central banks from around the world have similarly announced a stimulus of their own, as the world economy receives an injection of cash that makes even the response to the financial crisis seem tame. We believe these actions signal a couple of things. First, it signals the economic risks that COVID-19 poses to the global economy if not handled with a sense of urgency. Second, it signals to us that central banks plan to backstop the economy regardless of cost until we are through to the other side of the pandemic. We still don't know if all the actions will be successful but early signs show that action has already worked to improve liquidity in fixed income markets. Of course, all the central bank action will have consequences that we must be prepared for. One of the biggest issues that investors need to think about is the impact this may all have on inflation going forward.
Truthfully, nobody knows if inflation will pick up. After all, just about everyone expected inflation to pick up after quantitative easing was used to address the Financial Crisis, yet it never materialized. Nonetheless, we must be prepared for an inflationary outcome should we get it. In portfolios, this could mean that investors might consider including real assets in their asset allocation mix. This could include real estate, infrastructure, or TIPS. Additionally, an investor might be able to hedge inflation with Gold. However, we urge investors to always have balance in their portfolios because the range of possible outcomes are wide at the moment, so your portfolio should be constructed to do well without having a great deal of precision on how the economy will respond to COVID-19.
Weekly Global Asset Class Performance
[/toggle]
---
Over the last several weeks, the team at Avidian Wealth has attempted to keep our clients apprised of updates related to the markets, economy, government, tax, retirement and other changes impacting us during this difficult time. As the Coronavirus (COVID-19) pandemic continues to spread, its impact on businesses and individuals has been significant. Stay up-to-date on the latest news with this Coronavirus Resource Center as your go-to resource for commentary, news, and other resources. Bookmark this article to check back regularly for updates.
---
Disclaimer:
Please remember that past performance may not be indicative of future results. Different types of investments involve varying degrees of risk, and there can be no assurance that the future performance of any specific investment, investment strategy, or product (including the investments and/or investment strategies recommended or undertaken by Avidian Wealth Solutions), or any non-investment related content, referred to directly or indirectly in this newsletter will be profitable, equal any corresponding indicated historical performance level(s), be suitable for your portfolio or individual situation or prove successful. Due to various factors, including changing market conditions and/or applicable laws, the content may no longer be reflective of current opinions or positions. Moreover, you should not assume that any discussion or information contained in this newsletter serves as the receipt of, or as a substitute for, personalized investment advice from Avidian Wealth Solutions. Please remember to contact Avidian Wealth Solutions, in writing, if there are any changes in your personal/financial situation or investment objectives to review/evaluating/revising our previous recommendations and/or services. Avidian Wealth Solutions is neither a law firm nor a certified public accounting firm and no portion of the newsletter content should be construed as legal or accounting advice. A copy of the Avidian Wealth Solutions's current written disclosure statement discussing our advisory services and fees continues to remain available upon request.
Financial Planning and Investment Advice offered through Avidian Wealth Management (STA), a registered investment advisor. STA does not provide tax or legal advice and the information presented here is not specific to any individual's circumstances. To the extent that this material concerns tax matters or legal issues, it is not intended or written to be used, and cannot be used, by a taxpayer to avoid penalties that may be imposed by law. Each taxpayer should seek independent advice from a tax professional based on his or her circumstances. These materials are provided for general information and educational purposes based upon publicly available information from sources believed to be reliable—we cannot assure the accuracy or completeness of these materials. The information in these materials may change at any time and without notice.
---
Please read important disclosures here
Get Avidian's free market report in your inbox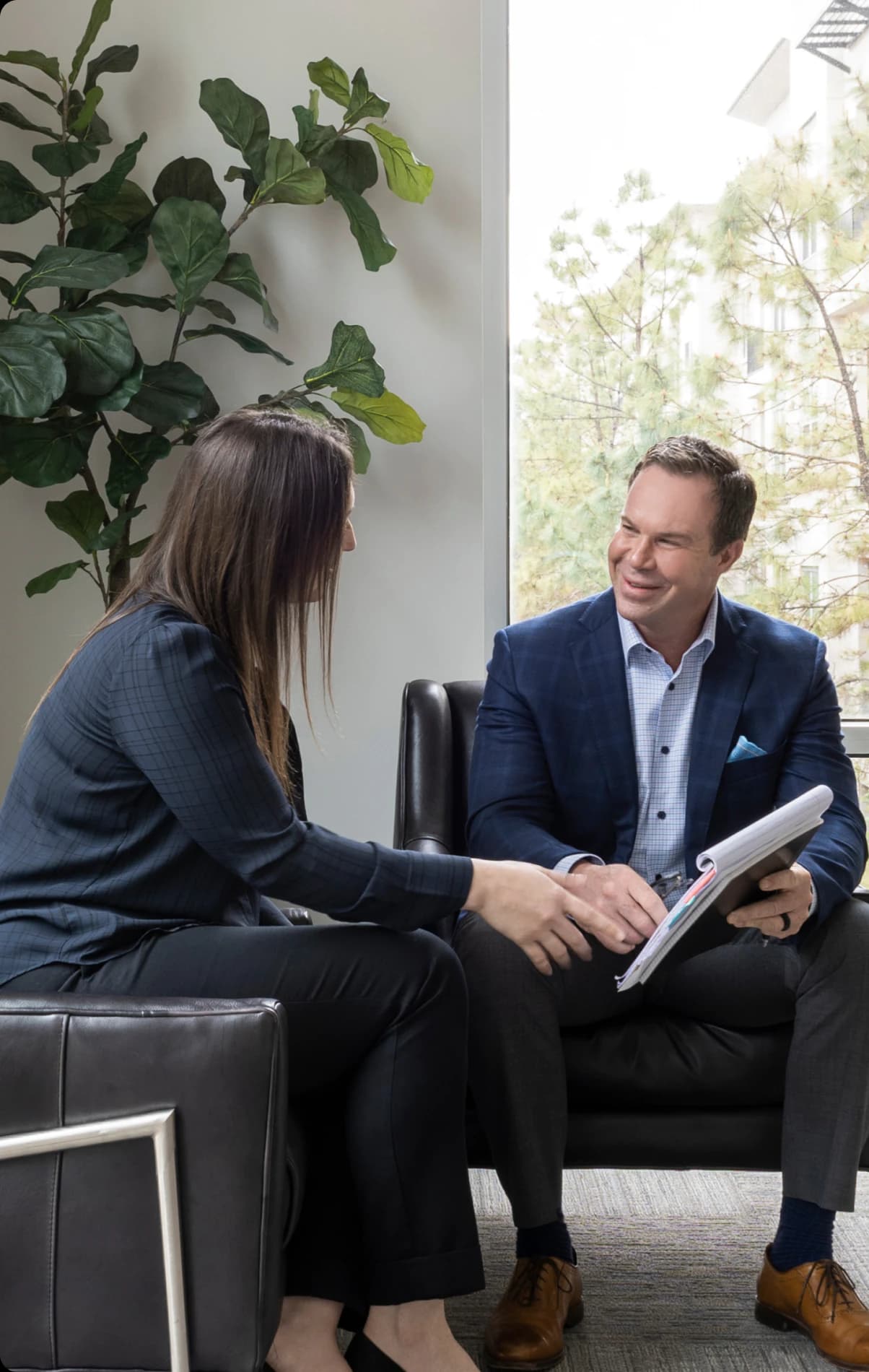 Schedule a conversation
Curious about where you stand today? Schedule a meeting with our team and put your portfolio to the test.*